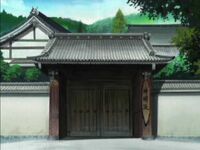 The Shinmei-ryu School Dojo is a large family-run martial arts dojo owned and run by the Aoyama family.
Situated in the Kyoto mountains, the school teaches the Shinmei-ryu style of swordsmanship and acts as the headquarters for businesses involving the Shinmei-ryu group.
Originally a privately owned establishment, with ownership passed down between the Aoyama family members, the school was designated a national landmark by the Japanese government on 2001 and became government property.
Location Design
Edit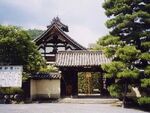 The appearance of the Shinmei-ryu dojo is based on the family temple of the Ashikaga shogunate on the Kinugasa mountain in Kyoto. The temple was founded by former shogunate, Takashi Ashikaga.

Ad blocker interference detected!
Wikia is a free-to-use site that makes money from advertising. We have a modified experience for viewers using ad blockers

Wikia is not accessible if you've made further modifications. Remove the custom ad blocker rule(s) and the page will load as expected.