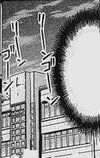 Shinobu's High School is a typical Japanese High School attended by Shinobu Maehara, Kaolla Su and Akiko Taichi.
While of no note in the manga, in the anime it is shown that the school possesses a group of school girls who pick on and bully certain classmates such as Akiko Taichi.

Location Design
Edit
Shinobu's Highschool is based on Tachikawa School in Tokyo.

Shinobu's seat number is No. 23 of Class B of the 7th grade.
Kaolla knows everyone in the school, even those outside of her class and year, due to her photographic memory.
Ad blocker interference detected!
Wikia is a free-to-use site that makes money from advertising. We have a modified experience for viewers using ad blockers

Wikia is not accessible if you've made further modifications. Remove the custom ad blocker rule(s) and the page will load as expected.