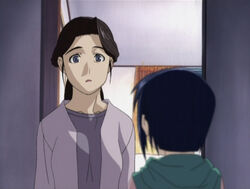 Mother to Shinobu Maehara and ex-wife to Yasuharu Maehara, Shinobu's mother owned and worked in the Hinata Restaurant before she was forced to close the business to pay for the allimony following the divorce from her husband, whom she claimed was cheating on her with another woman. Her name was never revealed in the anime.
Ms Maehara would later move to stay with her mother while Shinobu stayed in Hinata at the Hinata Inn.

Ad blocker interference detected!
Wikia is a free-to-use site that makes money from advertising. We have a modified experience for viewers using ad blockers

Wikia is not accessible if you've made further modifications. Remove the custom ad blocker rule(s) and the page will load as expected.