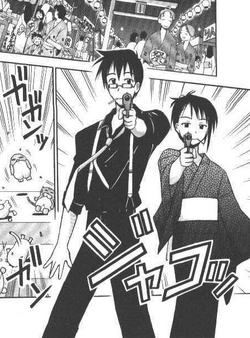 A Shooting Gallery (Shateki (射的)) is a carnival game typically featuring a pellet gun and small targets worth various prizes or points towards a major prize.
Shooting galleries come in a variety of types, some featuring stationary targets or items (with the goal being to shoot down the prize the shooter wants), others possess moving mechanical tracks with targets at varying distances. Others still possess targets selectively placed within a moving montage or "scene" based on a specific theme.
In modern day, the "Japanese Summer Festival" variant of this game entails that the marksman wields a cork gun, which is aimed and fired at the prize that they want to obtain. If the marksman is able to knock the intended target off of its platform, they win the prize. The trick in the game is to judge between how secure the prize is resting on its platform and how strong the gun can shoot the cork.
Other Appearances
Edit
Negima! Magister Negi Magi
Edit
Main Article: Shooting Gallery
In Negima! Magister Negi Magi, Negi Springfield and Asuna Kagurazaka try out a shooting gallery during the Mahora Academy School Festival.
While modern shooting galleries issue pellet guns for the shooter to use, older shooting galleries used to use real .22 caliber bullets.
Ad blocker interference detected!
Wikia is a free-to-use site that makes money from advertising. We have a modified experience for viewers using ad blockers

Wikia is not accessible if you've made further modifications. Remove the custom ad blocker rule(s) and the page will load as expected.