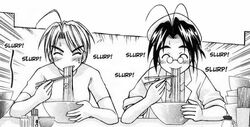 Soba Noodles are thin noodles made out of buckwheat flour, and in Japan can refer to any thin noodle.
In Japan, soba noodles are served in a variety of settings: they are a popular inexpensive fast food at railway stations throughout Japan, but are also served by expensive specialty restaurants.
Thick noodles made out of wheat are known as Udon.
Morioka attracts tourists with local noodles such as jajamen, reimen, and wanko soba.
Ad blocker interference detected!
Wikia is a free-to-use site that makes money from advertising. We have a modified experience for viewers using ad blockers

Wikia is not accessible if you've made further modifications. Remove the custom ad blocker rule(s) and the page will load as expected.