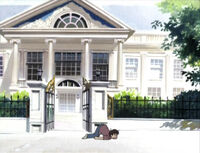 Studio Akamatsu is an anime/manga studio run by Ken Akamatsu. The studio is popular for producing the hit manga and anime show, A.I. Love You.
While looking for a job, Keitaro manages to gain work as an inker for the studio, however, the long hours and repetive nature of the work caused him to abandon the job.

Only appearing in the anime, Studio Akamatsu is probably a parody of the famous Studio Ghibli; the "Disney of Japanese Animation".
Ad blocker interference detected!
Wikia is a free-to-use site that makes money from advertising. We have a modified experience for viewers using ad blockers

Wikia is not accessible if you've made further modifications. Remove the custom ad blocker rule(s) and the page will load as expected.