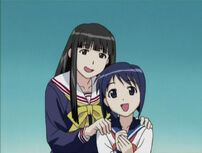 Sweet Blue Days is a vocal compilation sung by Shinobu Maehara and Motoko Aoyama seiyuus, Masayo Kurata and Asakawa Yū. This song made an appearance in episode 11, during their short lived singer time.
Original / Romaji Lyrics

Kinou atta dekigoto Keshiki mitai hanasu kimi
Yuugure no mannaka de Koko wa natsu no iriguchi

CHAIMU ni hajikatta kakedasu sakamichi
Kaze wo kanjitara
Nayandeita koto mo warai tobaseru kara
Ashita wa hareru ne

Koishite yume miru mainichi daiji na takaramono

Toritomenaku oshaberi Tsuzukete itai houkago wa
Mada shiranai tokimeki Deau setsunai yokan

Toki ni onaji kimochi mitsukerarena kutemo
Kimi wa daijoubu
Jibun rashii koto ga kagayaite irutte
Oshiete kureta ne

Narande mitsumeru ano sora Omoi wo utsushiteru

RASSHU no hitonami ni Nagasarenai youni
Kokoro musubitai
Akogareteru koto wo
Zutto nakusanaide Otona ni natte mo

Koishite yume miru mainichi Daiji na takaramono
Sugiyuku jikan no kakera ni Eien tojikomete

English Translation

You speak of the day we met just like speaking of scenery
Here is the gateway to summer at dusk

Because when you feel the wind
On the slopes you dash on when flipped by the bells
You can laugh away even the things you worry about
Tomorrow will be sunny day, okay

The days of dreaming and being in love are precious treasures

After class when I'd like to go on chatting endlessly
I came across a hunch about a heartbeat I've never known

Even at times when the feelings aren't the same
You'll be all right
You've taught me
That being yourself makes you shine

I gaze up the sky and project my thoughts there

I want to tie our hearts together
So as not to be carried along the rush of people
Never lose what you desire
Even when you grow up

The days of dreaming and being in love are precious treasures
Forever sealed in the pieces of time that passes by
Ad blocker interference detected!
Wikia is a free-to-use site that makes money from advertising. We have a modified experience for viewers using ad blockers

Wikia is not accessible if you've made further modifications. Remove the custom ad blocker rule(s) and the page will load as expected.