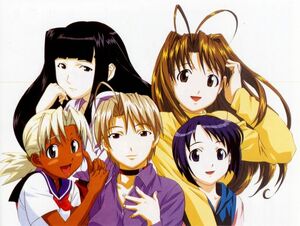 The Hinata Residents is a term used to refer to the tenants living at Hinata House.
Usually this refers to Naru Narusegawa, Motoko Aoyama, Shinobu Maehara, Mitsune Konno, Kaolla Su, Mutsumi Otohime and Kanako Urashima.
Keitaro Urashima is not usually refered to as a "resident" due to his status as the landlord and a similar reason is given to Haruka Urashima, who is the unofficial den mother. Sarah McDougal is also not included as she is not a long-term tenant.

As a group, the voice actresses of the anime show's female leads were known as "The Hinata Girls" during their stage performances.
Ad blocker interference detected!
Wikia is a free-to-use site that makes money from advertising. We have a modified experience for viewers using ad blockers

Wikia is not accessible if you've made further modifications. Remove the custom ad blocker rule(s) and the page will load as expected.