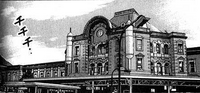 Tokyo Station is a railway station in the Marunouchi business district of Tokyo, Japan, near the Imperial Palace grounds and the Ginza commercial district.
Served by Shinkansen high-speed rail lines, Tokyo Station is the main intercity rail terminal in Tokyo. It is the busiest station in Japan in terms of number of trains per day (over 3,000), and the fifth-busiest in Eastern Japan in terms of passenger throughput.
External Links
Edit
Ad blocker interference detected!
Wikia is a free-to-use site that makes money from advertising. We have a modified experience for viewers using ad blockers

Wikia is not accessible if you've made further modifications. Remove the custom ad blocker rule(s) and the page will load as expected.