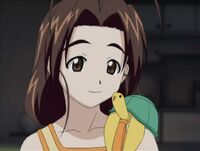 Turtlese is a language that turtles such as Tama and Gidget use to communicate. While no persons have been shown to be able to speak the language, people such as Mutsumi Otohime, Kaolla Su, Noriyasu Seta and Nyamo Namo have demonstrated being able to understand it when spoken by one of the turtles.
Mutsumi once expressed disappointment that Turtlese wasn't one of the tested languages in the Tokyo University entrance exams.
Ad blocker interference detected!
Wikia is a free-to-use site that makes money from advertising. We have a modified experience for viewers using ad blockers

Wikia is not accessible if you've made further modifications. Remove the custom ad blocker rule(s) and the page will load as expected.