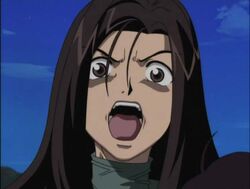 "I will never allow you to be happy!"
—Vengeful Spirit
Years ago a young woman had been betrayed by one man after another until she was no longer capable of love and she threw herself into the ocean. That woman's tortured soul evolved into a vengeful spirit fuelled by its hatred towards men. The spirit, presenting itself as a beautiful woman, lures ships to disaster and drags unsuspecting victims to the bottom of the sea.
As discovered by Motoko Aoyama during her mission to exorcise it, the spirit can also take possession of women through cursed jewelry that the women find and wear. Through these trinkets the spirit was able to posses both Naru Narusegawa and Kikuko Onoue. Unwilling to physically hurt the girls to destroy the spirit, Motoko learnt the Rock Splitting Spirit Sword technique to vanquish the woman and finally put her soul to rest.
Ad blocker interference detected!
Wikia is a free-to-use site that makes money from advertising. We have a modified experience for viewers using ad blockers

Wikia is not accessible if you've made further modifications. Remove the custom ad blocker rule(s) and the page will load as expected.