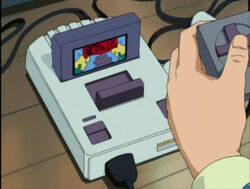 A popular cartridge videogame console during Keitaro's early high school years, Naru found this console while cleaning out the Hinata Apartment's storage shed.
With Keitaro having kept some of his games; including an RPG game called "Legend of the Dragon Palace" and a game where the player is a manager of an all-girls' dormitory, the residents were able to plug it into a television set and play.

The appearance of the console seems to be based on the Famicom; the Japanese console that would later be modified and released in the west as the Nintendo Entertainment System.
Though it was originally meant to be used by the apartment residents, the console seems to have been moved to stay in Kitsune's room.
Ad blocker interference detected!
Wikia is a free-to-use site that makes money from advertising. We have a modified experience for viewers using ad blockers

Wikia is not accessible if you've made further modifications. Remove the custom ad blocker rule(s) and the page will load as expected.