Wakkanai ((稚内市, Wakkanai-shi) is a city located in the northern point of Hokkaido, Japan. It is located on Japan's northernmost point, Cape Soya, from which the Russian island of Sakhalin can be seen. Naru Narusegawa runs as far as Wakkanai in an attempt to escape from her feelings for Keitaro.
There are more than ten monuments at Cape Soya, including the Monument of the Northernmost Point of Japan, the Tower of Prayer (a memorial of Korean Air Lines Flight 007, 1983), a statue of Mamiya Rinzo, the Monument of Peace (a memorial of USS Wahoo), and others.
Location Design
Edit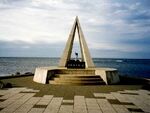 The appearance of Cape Soya was based on real-life images of the location.

External Links
Edit
Ad blocker interference detected!
Wikia is a free-to-use site that makes money from advertising. We have a modified experience for viewers using ad blockers

Wikia is not accessible if you've made further modifications. Remove the custom ad blocker rule(s) and the page will load as expected.