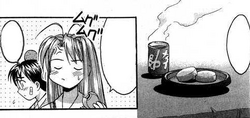 Warabimochi is a jelly-like confection made from bracken starch and covered in kinako (sweet toasted soybean) flour.
It is often sold during the summer in the Kansai region from trucks, similar to an ice cream truck in Western countries.
Ad blocker interference detected!
Wikia is a free-to-use site that makes money from advertising. We have a modified experience for viewers using ad blockers

Wikia is not accessible if you've made further modifications. Remove the custom ad blocker rule(s) and the page will load as expected.