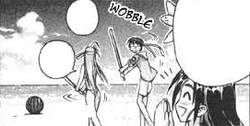 Watermelon Smash (Suikawari) is a party game often played on beaches in Japan where someone is blindfolded, given a large stick, spun around to disorient them and then directed to smash/crack a watermelon. While the aim is for the blindfolded participant to find and crack the watermelon on their own, spectators may shout advice or distractions.
The game is similar to the western Piñata party game.
The game was one of the traditional summer beach activities in Japan until environmental and economic concerns made it less popular.
Ad blocker interference detected!
Wikia is a free-to-use site that makes money from advertising. We have a modified experience for viewers using ad blockers

Wikia is not accessible if you've made further modifications. Remove the custom ad blocker rule(s) and the page will load as expected.