Yatai is a mobile food stall in Japan that typically sells ramen or similar food and drinks such as beer and sake depending on the location.
Appearing as early as 1710 where they appeared amongst the city pleasure districts, Yatai were developed to serve as cheap and fast alternatives to restaurants and became popular during the Meiji period (1868-1912) when they were two-wheeled pushcarts constructed of wood. In modern times, when not selling foods to spectators during festivals, Yatai are generally set up in the early evening on pedestrian walkways to catch the afternoon commuters and removed before morning commuters begin to fill the streets.
Other Appearances
Edit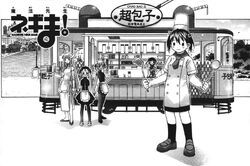 Negima! Magister Negi Magi
Edit
Main Article: Chao Bao Zi
The mobile restaurant Chao Bao Zi is a modified yatai that specializes in Chinese cuisine. It is uniquely refitted from two Tram cars.
Ad blocker interference detected!
Wikia is a free-to-use site that makes money from advertising. We have a modified experience for viewers using ad blockers

Wikia is not accessible if you've made further modifications. Remove the custom ad blocker rule(s) and the page will load as expected.