Zao Onsen is a well known hot spring and ski resort near Mount Zao, Japan.
The resort is made up of various onsen hotels resorts. During the winter, it is one of only a few places in Japan where "ice trees" can be seen. Also known as "snow monsters", the trees take on curious shapes due to the heavy snowfall and freezing winds.
The Hinata residents briefly stay in one of the hotels in the resort while pursuing Naru who was running away from her relationship with Keitaro.
Location Design
Edit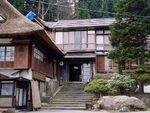 The Zao Onsen was based on the Nishiya Ryokan in Yonezawa City. The building has a 200-year history.

Ad blocker interference detected!
Wikia is a free-to-use site that makes money from advertising. We have a modified experience for viewers using ad blockers

Wikia is not accessible if you've made further modifications. Remove the custom ad blocker rule(s) and the page will load as expected.